Day Trips and Excursions
To Register: Submit payment and registration form to the Pozez JCC, Attn: Michele Endick. Make check payable to "Pozez JCC" with the date of the event on the memo line. You will receive a confirmation call back. Please notify Michele prior to the trip if you must cancel. No refunds will be issued unless we are able to fill your reserved space. Trips are subject to change. Please call to confirm. A minimum number of participants is required on all trips.

Note: Some museums have fees that will be collected in addition to the bus transportation payment.
---
Excursions
Shenandoah Summer Music Theatre —Young Frankenstein

(EVENT FULL)
Wednesday, July 17, depart the J 9:45am; return 6:45pm
Join us for our yearly trip to Winchester for a fine theatre experience. This year, we will see Young Frankenstein based on the hilarious movie of the same name, music, and lyrics by Mel Brooks. ". . . Frederick Frankenstein inherits his family's estate in Transylvania. With the help of . . . sidekick, Igor and lab assistant, Inga, Frederick finds himself in the mad scientist shoes of his ancestors. "It's alive!" he exclaims as he brings to life a creature to rival his grandfather's. Eventually, of course, the monster escapes and hilarity continuously abounds." —Theatre's Website
Prior to the play, we will have a delicious buffet lunch at Piccadilly's Public House and Restaurant in Old Town Winchester. We have dined there many times and have enjoyed wonderful service and food. There may be some time to walk on the nearby pedestrian mall prior to leaving for the very nearby theatre.
Contact Michele Endick, 703.537.3095 to be put on the waitlist.
Trip to Annapolis, MD – Ground and Water Tours with Lunch

(EVENT FULL)
Friday, July 26, depart the J 9am; return 5:30pm
We will have a special summer day in Annapolis including a guided tour of the Maryland State House, a scenic Severn River cruise with views of the US Naval Academy and boxed lunch on board the boat. After the cruise, enjoy a ground tour of historic Annapolis and the WWII Memorial from our own bus.
Contact Michele Endick, 703.537.3095 to be put on the waitlist.
Kennedy Center Outing —The Band's Visit
Sunday, August 4, depart the J 11:15am; return 6pm
"One of the most ravishing musicals you will ever be seduced by."
—The New York Times

"This critically acclaimed new musical celebrates the deeply human ways music, longing, and laughter can connect us all. After a mix-up at the border, an Egyptian Police Band is sent to a remote village in the middle of the Israeli desert. With no bus until morning and no hotel in sight, these unlikely travelers are taken in by the locals. Under the spell of the desert sky, their lives become intertwined in the most unexpected ways. Based on the multi-award-winning film, The Band's Visit"
— Kennedy Center website
The show won 10 Tony awards in 2018 including Best Musical. Before the show, lunch is available for purchase in the café overlooking the Potomac River.
Fee: $130 (includes bus transportation, matinee
performance), lunch on own at the café,
optional, separate charge
Code: #9927
RSVP: Submit payment and registration form to the J, Attn: Michele Endick. Make $14 check payable to Pozez JCC with "8/4" on memo line.
National Geographic Museum — Queens of Egypt
Friday, August 16, depart the J at 10:30am; return to J approx. 3:30pm

"Travel back in time with National Geographic to visit ancient Egypt, one of the world's greatest civilizations, and get to know some of its lesser-known leaders — Egypt's mighty queens. Learn about the hidden role of women in all aspects of Egyptian society. Meet seven Egyptian queens whose impact helped shape both the ancient and modern worlds. Then travel in the footsteps of women through their daily lives and into their tombs on their journeys to reach the afterlife."
— National Geographic Museum website
Join us to see this spectacular exhibit which earned a two page spread in The Washington Post.
If desired, you may eat in the cafeteria across the courtyard and there's a wonderful gift shop.

Fee: $27 includes bus transportation and
exhibit, lunch on your own
Code: #9928
RSVP: Submit payment and registration for the J, Attn: Michele Endick. Make check payable to Pozez JCC with "8/16" on memo line.

Riverside Center for Performing Arts Dinner Theatre: Rodgers and Hammerstein's, South Pacific
Wednesday, August 21, depart J 10:30am; return 6pm

Riverside is always very welcoming to our group — great seats, served 3- course lunch, and wonderful entertainment.

"Set against the dramatic background of an idyllic South Pacific island during WWII, Rodgers and Hammerstein's South Pacific intertwines the themes of romance, duty, and prejudice to create a story that is all at once hilarious, heartbreaking, and thought-provoking. Based on the anecdotes of a real-life U.S. Navy commander stationed on an island, the musical follows two intercultural love stories. . .Both Americans find themselves struggling to reconcile their own cultural prejudices with their amorous feelings, all the while under the dark cloud of a war that is coming ever closer to their island" — Riverside Center website

Fee: $84 (includes bus transportation, 3-course
lunch — make choices in the theater and
show)
Code: #9929
RSVP: Submit payment and registration form to the J, Attn: Michele Endick. Make $84 check payable to Pozez JCC with "8/21" on memo line.

2019 Annual Overnight Adventure: Pittsburgh, PA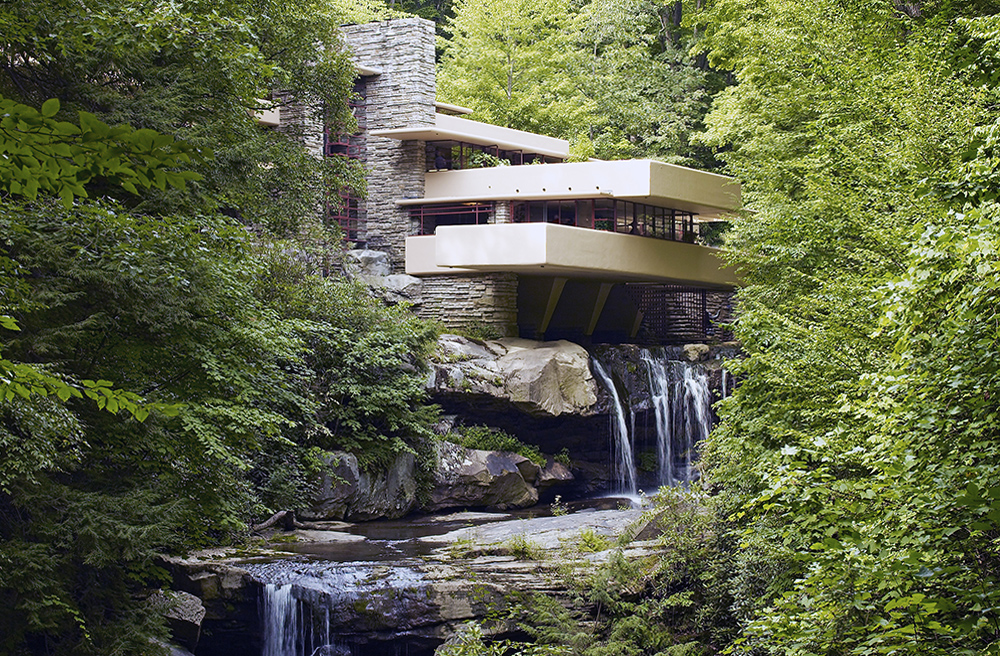 3-day, 2-night Excursion to Fallingwater and Exciting Sites in Pittsburgh
Tuesday, September 24, depart 8:15am; return Thursday, September 26 approx. 9:30pm
Contact: Michele Endick, 703.537.3095
Join us for our seventh annual overnight excursion! The cost of the trip includes luxury accommodations, most meals (kosher style), all admissions, tips, and more. Enjoy:
Two-night stay with luxury accommodations at the Sheraton Pittsburgh Hotel at Station Square with beautiful city/water views and includes a full daily breakfast. Shops, offices, restaurants and entertainment anchor this historic riverfront site on the south shore of the Monongahela River.
Luxury motor coach transportation with bathroom and WiFi for the entire trip.
Docent-led tour of Fallingwater, Frank Lloyd Wright's masterpiece, in Mill Run, PA. Bring a bag lunch or enjoy lunch in the café, on own.
Elegant 3-course dinner at the Grand Concourse on the riverfront — in the beautifully preserved Pittsburgh & Lake Erie Railroad Station, with cathedral stained-glass vaulted ceiling, marble columns, and a dramatic staircase — true grandeur of another era.
A two-hour tour of many Pittsburgh sites, with a "hop on" local tour guide (includes ride on the famous Duquesne Incline up to Mt. Washington — terrific views of the city).
Time to explore the wonderful exhibits at the Carnegie Museum of Art or The Andy Warhol Museum / your choice. If desired, eat lunch in one of the cafes, on own.
Dinner cruise on the Gateway Clipper riverboat — entertainment provided
Private presentation at the Rauh Jewish Archives (at the Heinz History Center) on the history of the Jews of Pittsburgh. Time afterwards to tour the Museum's exhibits. Boxed lunch included.
Mystery stop at a well-known Pittsburgh historic site.
Dinner stop on the way home at the famous Eat'N Park, open since 1949 with a terrific salad & soup bar/entrées, and a special surprise at the end of the meal.
We hope you will join us as we travel along scenic roads enhanced with vibrant fall colors and crisp air, while also enjoying interesting venues, great meals, fun, and camaraderie! Space is limited.
Registration deadline is August 12.
Fee: Single $699; Code: #9854
Double: $550 pp (please provide name of
roommate, matches are not provided);
Code: #9855
RSVP: Reservations only accepted with payment — submit with registration form to the J, Attn: Michele Endick. Make check payable to Pozez JCC with "9/24" on the memo line. Register early, limited number of spaces available!